2 x Biocare MAQUI Berry Plus 12g x10 sachets anti aging
RM 116.00
RM 51.90
Quantity
You may be interested
Biocare Fruits Fiber Plus 4×10's (Detox)

Read More

Biocare Spirulina Col 2X 200 tablets 200mg

Read More

2x Biocare IgG colostrum chewable tablet 200s x 200mg

Read More

Biocare Organic Chia Seed 2 x 250gm

Read More
Basic Information of Product
Delay aging process by eliminate free radicals
Exert anti-diabetic effect
Exert anti-inflammatory effect
Increase body metabolism rate
Strengthen body immune system
Reduce the risk of getting cardiovascular diseases
Maqui berries is a types of purple, highly nutritious berry, found in wild in southern Chile. A research report has shown that Maqui berries have the highest antioxidant level among other fruits, in which its content is 30 times more than the blueberry and 3 times more than Brazil berry. Its anthocyanin content is the highest among all the fruits and vegetables and polyphenols is 10 times much higher than red wine. Anthocyanins are effective against free radicals, protect our body cells from free radicals attack, improve immunity and delay aging. It is suitable for the consumption among adult and elderly. In addition, Maqui berries pose an anti-inflammatory function that help to reduce the risk of various degenerative diseases caused by inflammation. Besides that, Maqui berries can also help in prevent oxidation of cholesterol. Cholesterol oxidation can lead to cardiovascular and cerebrovascular diseases, including heart disease and stroke.
马基莓是一种紫色的、营养密度极高的莓果,在智利南部的野外随处可见。根据研究报告显示,马基莓是含抗氧化剂最高的水果,其含量是蓝莓的30多倍,巴西莓的3倍。其中花青素含量是迄今所知的所有水果及蔬菜中含量最高的。茶多酚的含量比紅葡萄酒高出10倍。花青素能有效抵抗自由基,保护身体细胞免受自由基侵害,提高身体免疫力及延緩衰老。成人与老人都适合食用。另外,马基莓具有高效消炎能力,有助于降低因发炎而导致的各种退化性疾病的罹患風險。同时馬基莓中的抗氧化剂有助于防止胆固醇氧化作用。胆固醇的氧化會导致心脑血管疾病,包括心脏病及中风。
促进減肥
增强体力和耐力
有助健康的老年生活
维他命C、钙、铁和钾的极佳来源
增加抗炎能力
防止低密度脂蛋白氧化
強化骨骼及关节
清洁皮肤并有助于保护皮肤免受阳光损伤
Packing form:
12g X 10 Sachets
包装形式:
12克 X 10 包
Ingredient    
Mix berry powder, mix tropical fruits powder and maqui berry powder.
成份    
混合浆果粉,混合热带水果粉和玛基浆果粉。
Recommended Dosage        
1- 2 sachets per day.
建议用量:
每日饮用1包
Direction of Use      
Mix 1 sachet into 180ml - 200ml of  water. Stir well and serve.
服用说明    :
每包以180-200毫升的温水(40°C)或冷开水冲调饮用。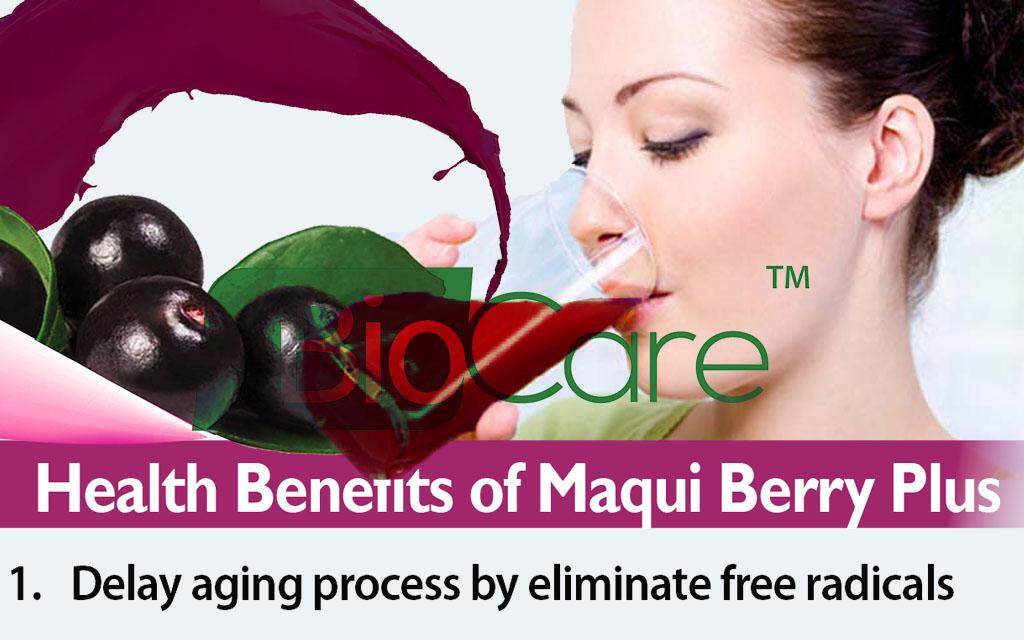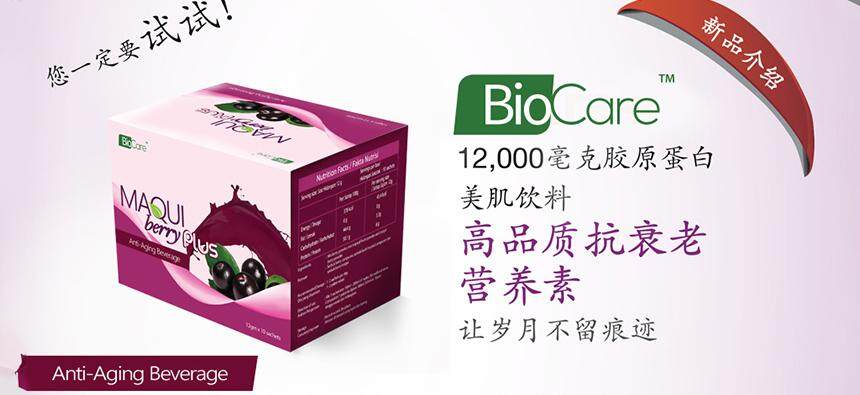 Address 地址:
30 & 32, Jalan Perindustrian Silibin 1,Kawasan Perindustrian Ringan Silibin,30100 Ipoh,PerakMarketed By 由销售:
TST HEALTH CARE SDN.BHD
BIOCARE has been recognized for its excellence in various fields around the world